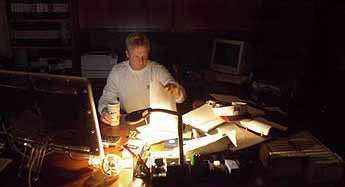 Jon Gruden's notorious for his early morning work sessions and his ability to make business decisions without letting a personal relationship get in the way. Yesterday, Simeon Rice, former Buc, lit into his former coach.
According to Pro Football Talk, Rice hopped on the NFL Sirius radio program Movin' The Chains to let it be known that Jon Gruden's a heartless tyrant who treats all his players like disposable heroes.
Back to the front:
"You look at what he did when Chris [Simms] damn near died on the field he wanted to release him right when he got injured. I get hurt, my shoulder's torn off the bone. This dude releases me. You know what I mean? I'm your guy. The list goes on. Keenan McCardell, that situation was a debacle. Keyshawn Johnson, another situation [that] was a debacle. Joey Galloway, which was his man, was in the dog house all year because he got injured, broke his ankle or whatever. Brad Johnson, that situation was bad. Brings Jeff Garcia in here,
oh, he's going to change things. I helped recruit him [and he] released me, kept Jeff and then put him in the dog house. Gets rid of Brian Greise, brings him, starts a controversy. It was chaotic. I'm giving you facts."

And then Rice gave opinions.

"How I feel personally? I could tell you that, too. I think he's a scumbag," Rice said. "I think he's a scumbag personally. That's when he's telling you one thing and… You know what he told me? 'Simeon you'll be here in the next five years.' I got injured [and] this man's never said one word to me. I won a Super Bowl for you. I got 13 sacks, 12, 15 every year for you. I balled. I got injured [and] you let me go like it was nothing."
Well, to be fair, Gruden wasn't the only one to let Simeon go. After he was released by the Bucs, Rice latched on to Denver for a little while and then asked to be released due to lack of playing time, then hooked up with the Colts. He's planning a "comeback" this season as a pass-rush specialist, but he's just an empty shell.