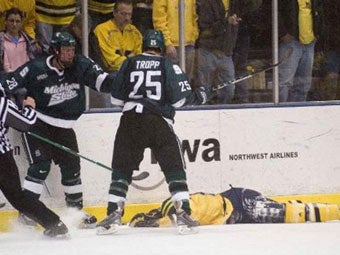 If you were wondering whether Michigan State coach Rick Comley would actually punish his two players who went berserk on Michigan's Steve Kampfer—both have been kicked off the team and one has already left school.
Freshman Andrew Conboy (who took Kampfer down from behind) and sophomore Corey Tropp (who slashed him with his stick after he was down) were suspended for the rest of the season and Conboy immediately dropped out of school. Tropp is reportedly considering it, because he will need permission to rejoin the team next year and it's possible he won't get it. That's surprisingly tough and fair.
But that doesn't mean we're done answering The Big Questions. For example, there's still the matter of Kampfer's father, who stormed down to the visitor's locker room after the game, threatening to beat up any Spartans who got in his way. Not exactly a mature response, but then again, maybe they shouldn't have stopped him. And maybe this criminal violence says something larger about the game of hockey and fans who crave it. Oh, and what about those nasty Wolverine students who chanted obscenities in front of the children. Real classy, Michigan! You couldn't have at least waited until the player's backs were turned before verbally assaulting them? Sheesh.
An inside look at ugly incident on and off the ice [Detroit Free Press]
Conboy leaves MSU, Tropp's future still not certain [The State News]
As Michigan State players withdraw from team, DPS looks into on-ice incident at Yost [Michigan Daily]