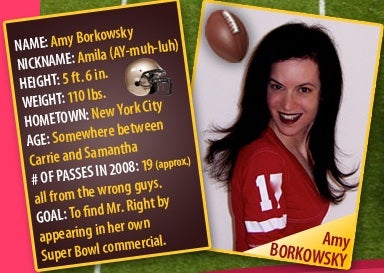 With three days to go, Amy Borkowski is only a few dollars short of her goal to raise $3 million to buy a 30-second Super Bowl ad. Exactly how short? $2,993,795.
Borkowski's plan: To buy a Super Bowl ad time — there are at least five open spots remaining, believe it or not — to air a commercial advertising for a husband. She's a New York comedian who began the quest this past fall, and hasn't gained much traction; $6,205 raised so far. From her site SuperBowlSingleGirl.com:
What do you do when you're over the bar scene, when singles events are reunions of guys you've already dated, and online matchmaking turns up only a parade of losers and liars? If you're author and comedian Amy Borkowsky,you shift your love search into high gear and decide to run your own commercial to advertise for Mr. Right — during the Super Bowl.
"Dating is basically a numbers game, and I figured getting myself in front of a captive audience of sixty million men would increase my odds of meeting Mr. Right," Borkowski said. "There's really only one thing I don't have in order to pull this off: Three million dollars."
Borkowski says that should she not reach her goal, the money will be donated to the United Way, and she'll use the publicity to further her comedy career. And of course we all know that's where this was going all along.