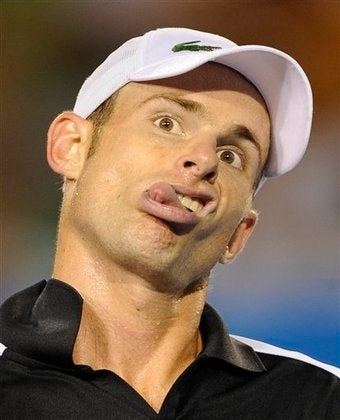 Andy Roddick adopted a strict new workout regimen, shedding 15 pounds so he could move quicker and last longer in the blistering Australian heat. It worked—but it still wasn't enough.
The story at the Australian Open was how Roddick was in the best shape of his life, and how he reached the semifinals by outlasting his less-prepared, less-hydrated opponents. Then he ran into his old nemesis Roger Federer, who promptly dispatched him in straight sets. It was the 15th time in 18 meetings that Roddick has lost to Federer and it wasn't even that close, especially after Roddick was unhinged by a tough replay call. It must be rough knowing that you're one of the best players in the world, playing some of the best tennis of your life, and yet you're still nowhere near the best of the best. At least in tennis, you can still tell a referee to "have some sack" and not get a technical for it.
That leaves the tournament one match away from the inevitable Nadal-Federer final. It would be their eighth Grand Slam final meeting and third time out of the last four—but their first meeting in Australia. I guess those two guys are pretty good.
Roddick's improved, but still can't match Federer [Fox Sports]
Australian Open scores [AustralianOpen.com]