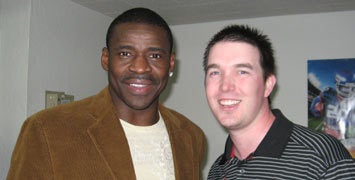 Have a yearning to be on a reality show, but you're afraid of snakes, and Ryan Seacrest? Can you run a pass route? Then you may be interested in Spike TV's open casting call.
Recently we told you about Irvin's reality show, which, come to think of it, begins production suspiciously close to his totally faked terrifying run-in with an armed gunman on a Dallas street.
Well, they're looking for 12 people who will be led through a series of drills by Irvin; the winner getting a spot on the Cowboys training camp roster. That's the premise of the show. From Got Cast.com:
Looking for elite football athletes whose careers ended on terms other than their own. Did family, friends, finances or an injury prevent you from achieving your lifelong goal of becoming a pro football player? Kurt Warner was bagging groceries before he became a two-time league MVP and Super Bowl Champion. Vince Papale was tending bar before he walked on the Philadelphia Eagles. Could you be the next professional football player to come out of nowhere?

This is a REAL opportunity to make a lifelong dream a reality.
And don't worry, there's a fall-back. If you don't make it, there's always Snoopy, the Musical.
Unititled Football Project [Got Cast]