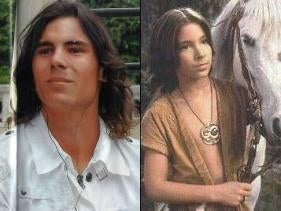 This "Celebrity Lookalike of the Week" graphic courtesy of SportsOnAStick.com, which officially launched at midnight last night. Welcome, guys. You realize your lives are basically over, right?
Australian Open result: Atreyu from The Neverending Story d. Roger Federer, 7-5, 2-6, 6-3.
Actually, the site's been up for about 13 months now, as its creators, Minnesota residents Sam Testa and Ben Malmo, have been testing it on a small scale. But today came the press release letting everyone know it's here. The sports satire site takes on The Onion in its own domain; something that's been tried before, with usually middling results. The only reason I note the launch of this one is that I glanced it over, and a lot of it looked pretty funny. Contrary to popular belief, catching that voice that The Onion folks have established so well is very hard to do.
"We know that we're in The Onion's territory, but they update their sports stuff only twice a week, so we thought there would be a market for this," said Testa, who during the day is an analyst for a Minneapolis health care company. Malmo is in corporate retail. About seven months ago they put out a call on Craigslist, among other Internet networking destinations, for writers and graphic artists in an attempt to go big with their site. There are 12 people, including two graphic artists, working on the site now, which updates daily.
"When people asked 'What do you pay?' we said 'Nothing,' Testa said. "The hope is to grow this thing until eventually we can hire a staff. Right now it's a labor of love."