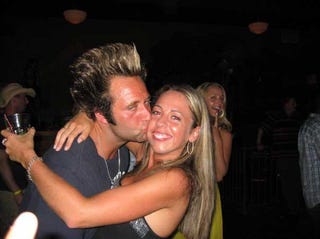 Pittsburgh Steelers kicker Jeff Reed is one-man marketing machine and it all has to do with his goofy hair-do and his inability to turn down any camera phone. USA Today amusingly investigates.
Jeff Reed first popped onto the Deadspin radar courtesy of that fateful Christmas Eve afternoon when then weekend editor, The Mighty MJD, decided the world needed to see him taking a cellphone picture of his newly shorn lunch pail for a prospective hook-up partner. From then on, it seemed that you couldn't go a weekend without a person sending in pictures of Jeff Reed doing something mildly sleazy and interesting. How else could a kicker get their own archive?
USA Today profiles him and the quotes he gives them — about the NFL, being an outsider, about life, man— could be taken out of a "How To Speak McConaughey" Learning Annex seminar:
• "You can't be an individualist, because if you are, you make yourself an outcast on the team. You can hang out by yourself, hang out with the punter, holder, snappers, the trainers, the equipment guys, or you can just join right in."
• "You have to know when it's time to work, it's time to work. But if you're not having fun, you're not living your life."
• "Taking pictures with somebody is not necessarily a bad thing. I don't care if it's random fans who are guys or hot girls. You just have to be smart."
• " The thing that pulled me through was I had a smile on my face the whole time, because I couldn't actually believe I was kicking in conditions like that."
• "I would have totally looked like a fool then. I'm only a halfway fool now."
• "You live for game-winners. I carry that burden on my shoulders as a kicker...At the same, I'd much rather win by 20 points and be partying on the sideline."
You just gotta keep livin' man, L-I-V-I-N.

On the field and off, Steelers' Reed Always Gets His Kicks [USA Today]