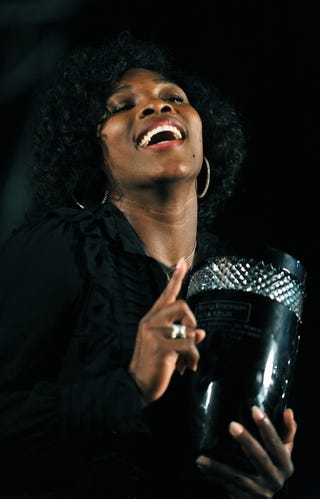 Got an image you'd like to see in here first thing in the morning? Send it to tips@deadspin.com. Subject: Morning crap
After wiping the floor with Dinara Safina 6-0, 6-3 Saturday to win the Australian Open for her 10th Grand Slam title, Serena took time to pose with her trophy in the most modest way possible.
The victory is Serena's second major win in a row and returns her to her rightful place as the number one-ranked female in the world.
And the Aussies — they love their Serena. So she says.
"I absolutely, clearly, love playing here," the 27-year-old Williams said. "You guys root for me so much. I don't get that everywhere. So thank you so much."

Serena Williams Wins 10th Grand Slam Singles Title [Yahoo!]
PHOTO: ">Yahoo Sports Gallery