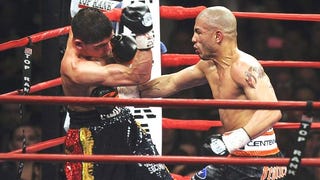 Miguel Cotto and Kelly Pavlik each returned to the ring for the first time following defeat, and both men walked away with knockout wins.
Cotto had a relatively easy night fighting against England's Michael Jennings in the first of Top Rank's co-featured bouts. The Puerto Rican star looked comfortable in his first fight since being crushed by Antonio Margarito (with or without illegal help), and he quickly dispatched of his opponent in the fifth round. Jennings went down on multiple occasions, with most of the damage coming from Cotto's lethal left hand. Many observers believe Cotto could now opt for a rematch with Sugar Shane Mosley, but in a crowded welterweight division plenty of other options exist.
While Kelly Pavlik shared top billing on the pay-per-view card he had the house all to himself in Youngstown, Ohio. The beloved native son battered a Marco Antonio Rubio for most of the night before the listless contender quit on his stool after the ninth round. The middleweight champ looked no worse for the wear in his first action since stepping up to fight a superior Bernard Hopkins, and could possibly go on to fight the immensely popular John Duddy. The undefeated Irishman starred on the New York portion of the undercard with a convincing win over tough Matt Vanda. Duddy has developed a huge following in the northeast following since moving to New York, making him an attractive opponent for Pavlik.
Image via ESPN