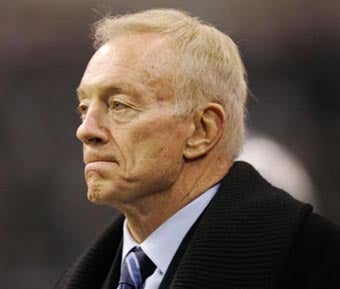 Dallas owner, and noted crazy person, Jerry Jones has issued an organizational gag order to prevent leaks, even the ones that aren't real.
Jerry Jones attempted to explain the gag order to some media members last night, and Albert Breer of the Sporting News was among them.
In particular, he was angry over two recent reports. First, he denied ever having players over to his home to discuss Terrell Owens' future with the team. Second, he refuted the report that he and his son, chief operating officer Stephen Jones, were debating the subject and that the son was trying convince his father to cut Owens.
How gagging your head coach is going to keep these alleged lies from coming out in the media is beyond me, but I'm not insane. Wade Phillips obviously had no comment on the gag order itself, but he has expressed interest in a gag of the bacon-flavored variety.