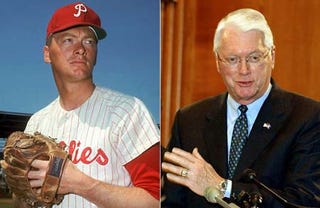 Jim Bunning, part of one of the most dramatic collapses in baseball history, seems to be watching his political career crumble around him as well. Let's get right to the highlights.
Bunning, a Hall of Fame pitcher whom the National Journal ranked as the second-most conservative United States Senator, predicted that the conservative cause would be helped soon because Supreme Court Justice Ruth Bader Ginsburg would die of pancreatic cancer in nine months. What a sweet guy.
During a wide-ranging 30-minute speech on Saturday at the Hardin County Republican Party's Lincoln Day Dinner, Bunning said he supports conservative judges "and that's going to be in place very shortly because Ruth Bader Ginsburg … has cancer."

"Bad cancer. The kind that you don't get better from," he told a crowd of about 100 at the old State Theater. "Even though she was operated on, usually, nine months is the longest that anybody would live after (being diagnosed) with pancreatic cancer," he said.
The Kentucky senator, who once said that a Senate opponent "looked like one of Saddam Hussein's sons," and would not agree to a debate unless he could appear by video remote with a teleprompter, has been rumored to have Alzheimer's. His own party is considering running Senate President David Williams against him in the 2010 primary.
Bunning played for four teams over a 16-team Major League career, including the 1964 Phillies, who had a 6 1/2-game lead over the Cardinals and the Reds that season on Sept. 21. With manager Gene Mauch famously overworking his ace, Philadelphia lost 10 straight to finish tied for second place.
This has been your latest in a series of posts aimed at making the Mets feel better about themselves.
Bunning: Ginsberg Will Be Dead In Nine Months [Yahoo News]
Bunning: Justice Ginsberg Likely Will Be Dead In 9 Months [Louisville Courier-Journal]
Weirdness In Kentucky [Salon]