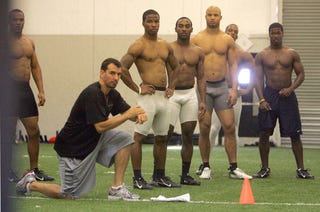 Most people agree that, outside of the regular season, the pre-draft coverage, including the NFL combine, is the best time to be an NFL Network subscriber. Especially if you're gay, according to Outsports.
Outsports editor Jim Buzinski's heart is all aflutter thanks to the generous helpings of 22-year-old man-meat "in Under Armour running, jumping, throwing and bench-pressing all as NFL scouts evaluate them for the upcoming draft like so many head of cattle." And much to his surprise, the combine drills get an added dash of sweat-soaked color thanks to the homo-erotic commentating of Rich Eisen and Mike Maycock:
I loved this exchange between Rich Eisen and Mike Mayock, gushing over the body of tight end prospect Dan Gronkowski (photo), a 6-6, 255-pound prospect from the University of Maryland (who benched 225 pounds for 26 reps). As Gronkowski ran his 40-yard dash, it went like this:

Eisen: "He's huge, he's a monster!"
Mayock: "He's all carved up. … I told the ladies on the staff that they might want to get a look at Tight End, Dash 8." Eight was Gronkowski's combine number.

As they went to commercial, they was a shot of Gronkowski running in slow motion, causing Eisen to say: "The flowing locks of Gronkowski."
Congratulations go to Dan Gronkowski: Impressing the scouts during this crucial time in a young player's life is commendable, but to also inject the NFL's Homosexual Fan Nation with a dose of Jeremy Bloom-level agog is almost equally important.

NFL's Fleshfest Is A Feast For The Eyes [Outsports]