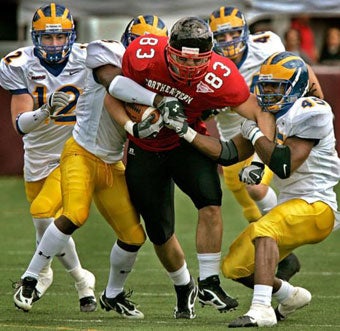 The good news: Despite playing for a weak small school program, you've been invited to the NFL combine! The bad news: The combine shows that you should never have been allowed on a football field.
Tight end Brian Mandeville was all set up to be this year's "beating the odds" story at the NFL draft. He played for a lousy I-AA school, missed a third of his senior season with knee injuries, and even survived a brain tumor while in college. Still, amazingly, he got an invite to the NFL combine. He hired an agent and started working out to prepare for his one shot to impress the NFL scouts. Then he showed up in Indianapolis for his "routine" physical ... and doctors at the combine discovered that he has a heart valve condition that should keep him from ever playing football again.
Yeah, that sucks. The condition is not life-threatening, but he will never get drafted by an NFL team now. At least he didn't get his hopes up or anything....
Doctors advise TE prospect Mandeville to retire (heart ailment) [SI]
Brian Mandeville on minds [Boston Herald]
The Sad Story Of Tight End Brian Mandeville [Shutdown Corner]
Combining hope, angst [Boston Globe]