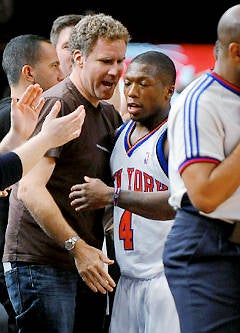 So the Knicks' Nate Robinson apparently has some sort of man-crush on Will Ferrell, and I guess who can blame him? I mean, have you seen Elf?
Robinson had 41 points and a key steal to lead the Knickerbockers over the Pacers 123-119 at the Garden last night, but it was the raucous Talladega Nights theme permeating the premises that had everyone talking. Not only did the public address announcer scream "Shake and bake!" after every Robinson score, but Robinson ran over and gave Ferrell a fist bump after one basket. Then there was this:
"I was so like energized, ready to play," Robinson said of Ferrell's presence. "It's weird. I wanted to play good for my team, for the fans but definitely for him. So he can hear as many shake-and-bakes as he can."
Of course this is not a new relationship. It was one year ago that Robinson actually faced Ferrell on the court.
And of course the Lakers have their own version of the "Shake and bake!" call at the Staples Center. After every Kobe Bryant basket, the PA announcer yells "No illegal immigrants!"
Nate Robinson Wills Knicks To Victory, Then Chats With Will Ferrell [New York Daily News]
Robinson Has 41 Points And A Key Interception [New York Times]
Nate Robinson Has A Man Crush On Will Ferrell [Total Pro Sports]