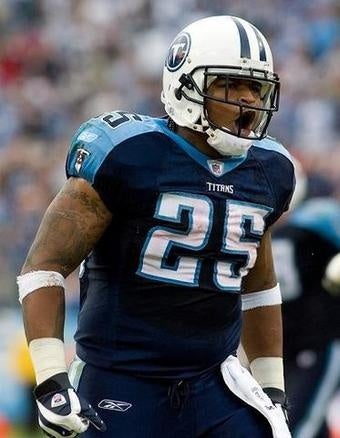 You may have spent Valentine's Day cuddling with your sweetheart—or crying alone in a dark corner—but LenDale White celebrated his holiday with a little (alleged!) road rage back in his hometown of Denver.
According to a Denver police report from February 14th, White was involved in a fender bender with another man and when the two got out of their cars to politely discuss the matter, things got a little whip-y.
"The verbal argument turned physical and (White) began striking and shoving the victim,'' the offense report said.

According to the report, White, listed as an unknown suspect, "began striking the victim with a belt and belt buckle'' before the parties got in their vehicle and fled. Hoch required hospitalization for lacerations, the offense report stated.
However, the district attorney who investigated the matter says there is other evidence that contradicts these statements, so no charges will be filed and the case has been closed. (And oh, yes, the NFL is aware.) So what really happened that night? We may never know, but if you're playing secondary against the Tennessee Titans next season and White starts reaching for his belt buckle, I would maybe just let him score.
Titans' LenDale White avoids charges after hometown altercation [West Word]
Titans' RB White involved in incident; no charges filed [The Tennessean]