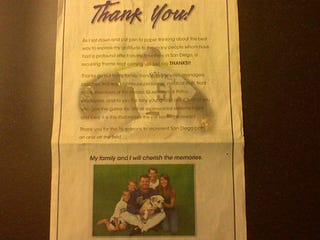 It doesn't have the craftsmanship of the CC Sabathia ad in the Cleveland Plain Dealer — what glorious fonts! — but Trevor Hoffman's farewell manifesto in the San Diego Union Tribune is pretty cool nonetheless.
A San Diego without Tony Gwynn and Trevor Hoffman is fairly unthinkable — you may as well remove the zoo and the homeless population — but there it is above in black and white. Or color, actually. Here's the text,.
Although Hoffman and the Padres' front office did not exactly leave on the best of terms, the Hall of Fame-bound relief pitcher saw no reason to take it out on San Diegans, with whom he's had a love-love relationship since boarding the ship in 1994. 902 games later he's a Milwaukee Brewer, and that's going to take some getting used to. That 902 games, by the way, is a major league record for games pitched with one team. All in all the ad was a fine gesture ... does anyone know how difficult it is to get a bulldog to sit still?
But before you go getting all sentimental, Hoffman had this to say to ESPN:
"I appreciated the forum to say my piece, but it's time to not talk about it anymore," Hoffman says. "I know where I stand, but nobody wants to keep hearing me whine about that crap. You know what I mean? The Padres have gone in a different direction."
Hoffman, 41, signed a one-year, $6 million deal with the Brewers, after turning down nearly as much with the Dodgers (why does no one seem to want to play there? Is it because Alyssa Milano is now engaged?). He's 46 saves short of 600.
Hoffman Says 'See Ya' In Full Page Ad [NBC San Diego]
Hoffman Looking Ahead, Not Back [ESPN]