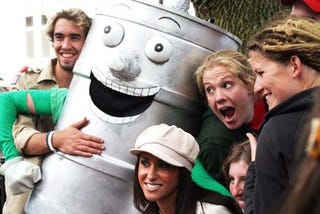 As if you needed a reason to love Keggy the Keg — come on, he dispenses school spirit and alcohol! — there's this: Michael Wilbon once called him "That stupid beer thing."
That's enough for me. But things have been rather bleak on the Dartmouth campus so far this school year, as Keggy — the unofficial school mascot invented in 2003 by writers of the campus humor society The Jack-O-Lantern — had been missing in action for six months. That was due to a shocking incident this past summer in which Keggy's storage closet was ransacked and his costume pilfered, with only small parts of Keggy ever recovered by police. Those terrorist bastards.
From The Dartmouth Independent:
Many here on campus have noticed Keggy's absence this past year at his staple diet of Dartmouth football and hockey games, especially his prominent presence amongst the throngs of fans at Memorial Field. One Jack-O member emphatically connected the dots: Keggy was gone and football team let the shit hit the fan this year. What else is there to say?
But following a laborious reconstruction project by the Jack-O-Lantern staff (your tuition dollars at work, mom and dad!), Keggy made his triumphant return last week during Winter Carnival with a tour of the Dartmouth campus. And finally, Hanover, New Hampshire feels whole again.
More from the Keggy file:
• Was created by students in 2003 after a school vote winner, the Moose, was deemed unacceptable.
• Has been interviewed in Playboy Magazine.
• "Shortly after Keggy's introduction in 2003, a group of students stole the Keggy costume from its home in the Sigma Nu fraternity library and sent threatening notes to Keggy's creators, including photographs of the mascot bound and gagged with one black eye. ... Keggy was eventually returned with minor damage to the costume."
• Keggy is too large and unwieldy to use the stairs or fit through doorways on the Dartmouth campus, causing its creators to declare the school "keg inaccessible."
• Keggy has not updated his blog since Sept., 2007. Come on, Keggy!
Keggy's Back! [The Dartmouth Independent]