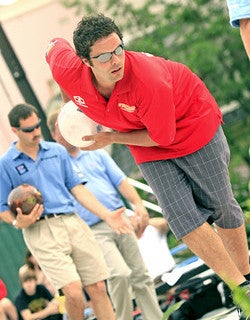 A rogue Australian criminal has adapted an ancient childhood secret that is completely revolutionizing professional bowling. All he had to do was ask—what if I used two hands?
Like most four-year olds, Jason Belmonte began his bowling career by using both hands to simply chuck the ball down the lane and hope it stayed out of the gutter. But apparently as he grew older, no one ever taught him the proper bowling technique even though his parents own a freakin' bowling alley. So he just kept using that childhood model, refined it, and now at 25 years old is blowing people's minds with his insane spin and thunderous pin action.
Don't try this at home, though. Jason's technique—putting only two fingers inside the ball and using his other arm to guide it through his entire throwing motion—creates more rotation than traditional one-armed throwing and is probably not safe for amateurs who don't know what they're doing. Doctors have actually studied him with motion-capture just to see what the heck he is doing with his body. They're worried that a lifetime of this practice would destroy his back, but no one has ever done it long enough to find out. And not before he seduces your children into a lifetime of rented shoes and stale beer and pisses off half the PBA Tour, who think he gets special treatment because of his wacky marketing potential.
All I know is that the Gawker bowling team opens its media league "season" this week and I'm prepared to drop some serious knowledge on those chumps from Glamour magazine.
Young Australian Puts a New Spin on Bowling: He Throws Two-Handed [WSJ]