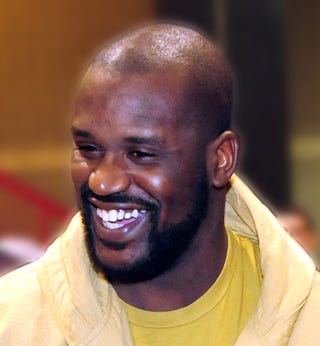 Shaq's Twittering accomplishments are more noteworthy than anything he or the Phoenix Suns have done so far this year. But with his latest Twitter stunt, The Big Aristo-Diesel is just asking for trouble.
The most recent "Random Act of Shaqness" on The Real Shaq, as of two hours ago was this:
I'm at the fashion sq mall, any1 touches me gets 2 tickets, tag me and say yur twit u hv 20 min
So do you say "I'm twit" or how does this work exactly? But remember this isn't the first ( nor the last, probably) time Shaq's used his Twitter to initiate real human contact with his fellow self-involved short sentence writers in America. There were these fellas at the diner just last week.
But I think one time this whole Twitter-tag thing will backfire on him and suddenly he'll be swarmed by a bunch of Twitterati stalkers, who just want to paw at him like he's some sort of 7ft. idol who contains magical powers. I'm picturing that scene at the end of "Temple Of Doom" when Indiana Jones is surrounded by all of those cave-dwelling Indian kids, shoving their shackled hands in his face, begging to be free.