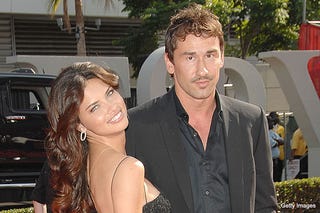 News of the nuptials between Memphis Grizzlies guard Marko Jaric and his Brazilian model-chick, Adriana Lima, spread like herpes from a beer pong tournament this morning. Never underestimate the power of a poorly groomed mustache.
People magazine, the publication of record for all pressing celebrity newborn/small town mining tragedies, says that Lima and Jaric high-tailed it to Jackson Hole, Wyoming to elope like a knocked-up teenage couple this past Valentine's Day. But Lima assured the magazine that, this summer, all Jarics and Limas will be in one place to jump on glassware, throw furniture, set goats on fire, or whatever weird wedding tradition a Brazilian/Serbian unholy union calls for:
We are so excited about our future together," Lima said. "And we are really looking forward to a big romantic wedding this summer with all our friends and family."
Oopa!
I don't understand why people think Adriana Lima's so damn intoxicating, honestly. Look at that philtrum. It's practically non-existent. And she's absolutely ghastly if you look at this picture with one eye closed while shaking your head vigorously back and forth.
Linkage:
Horrible, Horrible News [With Leather]
Marko Jaric marries Victoria's Secret Model Adriana Lima [SKEETS!]
Photo: Getty Images
******
Thank you for your continued support of Deadspin. Go disemvowel yourself in a nice hot bath.