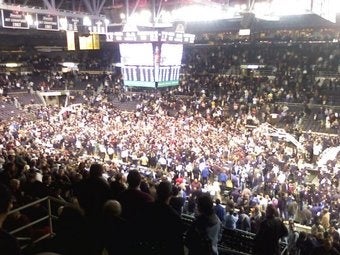 One week ago, Pittsburgh was an unstoppable juggernaut asserting their dominance by thrashing a previously unbeatable behemoth. Today, everyone is scratching their heads and saying, "What's wrong with those guys?"
It turns out that their Achilles' Heel—fouls on the big man—is the same as UConn's, the team they unseated to earn the No. 1 ranking. Flavor of the week DeJuan Blair had a decent night against Providence, but was limited by second half foul trouble and the Friars (which led by as much as 20) held off a rally to knock off the nation's "top" team. This drops the Panthers out of a first-place tie in the Big East, moves Providence into the upper half of the conference (and back in line for a tourney bid) and gives people who concern themselves with excessive student celebrations something to think about.
This will also end Pitt's second brief stint as the No. 1 ranked team in all the land. Judging by the way they handle such success, it's probably for the best.
Friars Shock #1 Pittsburgh! [Friar Blog]
RTC Aftermath: Providence 81, Pittsburgh 73 [Rush The Court]
stfhoops: Providence: Most violent f ... [STF Twitter]