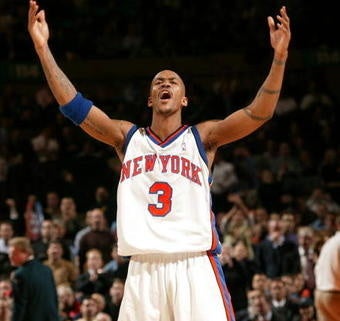 New York finally ended their feud with Stephon Marbury and sent him off into the night. Now that our long national nightmare is over, the question becomes—what are the Celtics getting themselves into?
After working out some sort of buyout agreement yesterday, the Knicks quickly waived Marbury and all signs point to him being scooped up by the Boston Celtics once he clears; just in time to sneak him on the playoff roster. They hope to add a backup point guard who will play 15-20 minutes a night and I suppose you could do worse.
The Celtics don't need help to grab a high playoff seed, but they probably need something extra to push them past the Cavaliers or Lakers in the playoffs. But Marbury doesn't really strike anyone as a team-first kinda guy. Will he really accept a "role player" position so gladly? Even for the chance at a title? Or would winning a ring in this way forever erase that disgruntled "Starbury" reputation?
It's also been a long time since Marbury played like an All-Star caliber point guard—although being a Knick would sap anyone's will to try—and it's been pretty much never since he played for a contender, so there really is no way of knowing how he will respond once he puts on a Celtics uniform. (And yes, he "reunites" with that tall guy he played two seasons with ten years ago, as if they were holding their breath all this time.) It really is a true gamble, and if it fails (whether it's his fault or not), well ... the I-told-you-sos will be quite delicious for Boston haters.
Then there are Knicks fans—who remain in a perpetual, doctor proscribed haze. A few are predictably taking the
"don't let the door hit" you stance, but most probably can't be bothered to take a break from crafting their anti-Isiah poetry to give a damn. If you know such a person, try to break it to them gently.
Celtics expected to land Marbury after Knicks buy him out [Boston Globe]
Marbury's depature a victory for Knicks fans [Newsday]
ONE LAST CHANCE TO BE STEPH OF LEGENDS [NY Post]
Unlike on court, Stephon Marbury departs with assist [NY Daily News]
Freedom brings responsibility for Marbury [Yahoo]
But What Will Stephon Wear? [Simon On Sports]