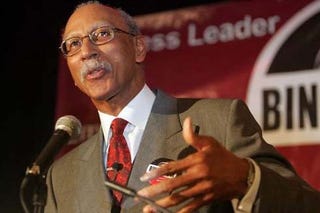 Here's all you need to know about Dave Bing: He enters campaign rallies to the tune of "The Final Countdown," as an announcer yells: "Here's your favorite Detroit Piston, starting for the City of Detroit!"
The list of things I do not want has always led with "Photos of a shirtless Bobby Cox," but "Being mayor of Detroit" has to be in the top five. Bing, the seven-time NBA All-Star, a point guard who was named one of the league's 50 Greatest Players of all time, wants the job, however.
On Tuesday Bing won a spot in the Detroit mayoral general election by capturing 29 percent of the vote, to runnerup Ken Cockrel Jr.'s 27 percent, in a special election. The two will face off in May to replace Kwame Kilpatrick, the "Hip Hop Mayor" who resigned in Sept. The resignation was part of a plea bargain in an obstruction of justice conviction stemming from Kilpatrick's affair with one of his top aides. I take it back; Detroit sounds like fun.
The next couple of months should be very interesting, or at least better than watching the actual Pistons. Bing claims that Cockrel has been a part of some dodgy financial dealings, and Cockrel is calling Bing a carpetbagger who only recently moved to Detroit to bank on his fame.
"There are no iron gates dividing me from the people I live with and the community I live in," Cockrel said in a shot at Bing's previous home in a gated community in Franklin in Oakland County.
We should not rest until every major city in America has a former NBA All-Star as mayor.
Bing, Cockrel Will Duel To Be Detroit's Mayor [Detroit Free Press]
Bing For Mayor