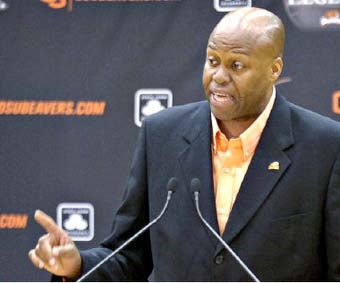 The popular choice for Pac-10 men's basketball Coach of the Year? Oregon State's Craig Robinson, who took the worst program in America and completely turned it around. Change we can believe in.
As Chris Dufresne of the LA Times points out, Robinson took a team that was 0-18 in conference last season and has them 7-8 and 13-13, as the Beavers prepare to travel to Oregon on Sunday. OSU has won three straight, and seven of its past 10.
"We have obviously exceeded that more than I could have imagined," Robinson said Tuesday. "To still have games that are very important to us, what more could you ask for?" In other words, Robinson's inauguration hasn't been too shabby, either.

The Beavers are even thinking post-season. "We would be honored if anyone thought that we would be good enough to play in their tournament."
OSU has been led by 6-foot-11 center Roeland Schaftenaar and guards Josh and Seth Tarver. And on the horizon? 6-10, 220-pound center Angus Brandt of Lake Forest Academy in Illinois has verbally committed, having turned down scholarship offers from Arizona State, Washington State and Michigan.
Since he coaches on the west coast, most of you last heard of Robinson when he introduced his sister, Michelle Obama, at the Democratic National Convention in August. Well, his first 123 days in office have been an unmitigated success. Now, about that budget deficit: Half-court trap! Swarm! Swarm!
Craig Robinson Wins The Popular Vote By A Landslide At Oregon State [Los Angeles Times]