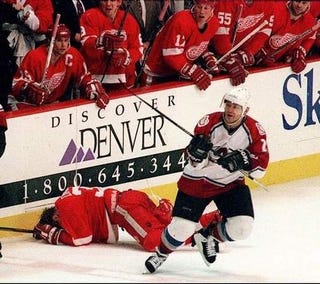 Everyone involved wants play down this momentous occasion, but as a struggling hockey fan desperate for drama and intrigue, tonight's Sharks-Red Wings game is the most explosive moment in hockey history!
Actually, Detroit is still chasing San Jose for the top spot in the Western Conference and since this is the last time they will face each other in the regular season, it actually is a critical game in the fight for home-ice advantage. But the real story, the one that I and many old Red Wing fans won't let go of, is Claude Lemieux's first appearance in Joe Louis Arena in six years.
The Sharks inexplicably added the 43-year-old retiree back in January, and he has contributed so little it seems clear that he was picked up simply to annoy Hockeytown. However, Kris Draper says he's over that face-re arranging Claude gave him all those years ago ... and that is just unacceptable. ("I'll try to work on my cliches for you guys over the next couple of days," he says.) Is that any way to fire up an irrationally angry fan base?
Where's the trash talk? The bounties? The tinfoil on the knuckles?
Red Wings defenseman Chris Chelios was Lemieux's teammate with the Montreal Canadiens in the 1980s and said he still is an effective pest....

"Whether it was him cheating at cards or (ticking) someone off,'' Chelios said. "But he was young, he'll be the first to admit he got under people's skin on other teams as well as his own team, coaches and everybody. Not the most pleasant guy to be around ...
Thank you, Chris! That's all I'm aski....
... but he had a big heart. I talked to him over the past few years. I like him a lot more than I did back then.''
Oh, come on! You guys are no fun at all!
Old enemy Claude Lemieux ready for Red Wings [MLive]
Draper is over Lemieux, if Red Wings fans aren't [San Jose Mercury News]
Claude Lemieux, back to being Detroit's Public Enemy No. 1 [Puck Daddy]
After 13 Years…Lemieux Is Still Garbage [Abel to Yzerman]
Lemieux back in familiar villain role vs. Red Wings [Detroit News]