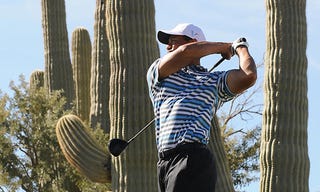 Admittedly, I didn't read Jason Sobel's live blog of The Blasian One's' long-awaited return to the PGA, but I'm a little sorry I didn't, since it seems he threw in a haphazard boner joke.
At the 1:57 mark today, Sobel dropped this little bit of color into his fast-typing routine
1:57 p.m. ET: Interesting look from the stands behind the first tee, as a phallic cactus is sticking straight up from the bleachers.

As one PGA Tour media official told me in the line of the week so far, "Even the cactus is excited about Tiger's return."
I think this type of sexualized course layout live-blogging should be encouraged at ESPN.com for all of its PGA event coverage. Like, "Mickelson just launched one in into the deep rough that resembles a Samoan's vagina" or something along those lines. It would certainly make for a fun bingo card.
*****
Thank you for your continued support of Deadspin. It's Wednesday. Go hump something.
PHOTO: PGA Tour.com