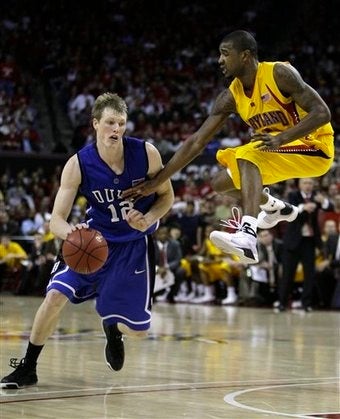 Despite a long sleepless night of running refrigerator jokes, Duke somehow managed to get some rest in during their 18-hour wait for tipoff and were able to outlast Maryland.
Yes, it's hard to believe that the assault on the Blue Devils' hotel didn't produce more disastrous results, but their game last night was actually very competitive for about 35 minutes. Then the Dookies regular cast of characters—Gerald Henderson, Kyle Singler, Jon Scheyer—went on a three-point and free throw barrage and ended up winning by 11. Maryland's re-ignited tournament dreams are hanging by a very thin thread, and while they probably don't feel as embarrassed as they were by that 40-point drubbing, this one might hurt worse. Next time try the fire alarm (and wearing your actual school colors.)
Minus Vasquez, it doesn't add up [Baltimore Sun]
Dukies Take the High Road [D.C. Sports Bog]
In other action, as they say ....
Connecticut 93, Marquette 82: The Eagles lost a chance to take back the Big East lead from Connecticut and lost senior guard Dominic James for the rest of the season with a broken foot. Adjust your tournament betting strategy accordingly. [Milwaukee Journal Sentinel]
Virginia Tech 80, Clemson 77: The Hokies' Malcolm Delaney saves his best basketball for games against Clemson—which seems like kind of a waste—but his 17 second-half points did bring the Tigers down a peg, leaving UNC/Duke to claw over the ACC title. As usual. [TechSideline.com]
Villanova 74, DePaul 72: Wait, Villanova is in the top ten now? Does Gary McLain know about this? [Philadelphia Daily News]
Northwestern 75, Indiana 53: Indiana added their team manager to the roster as a walk on. Amazingly, that didn't stop Northwestern from beating the crap out of them for the school's first win ever in Bloomington. Yeah, the Hoosiers are ... how do you say? ... not good. [Rush The Court]