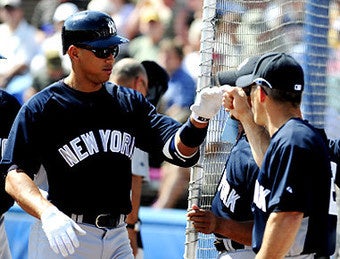 A-Rod proved that he can perform without the aid of fancy drugs by hitting a home run in his second spring training at bat—then getting a ride home from his injection-happy "cousin."
Maybe it's the crazy talking, but it probably doesn't look good to begin your 2009 campaign with a triumphant dinger and then drive off in an SUV with the guy who used to inject you with steroids behind the wheel. Yes, Alex Rodriguez is a big boy and can hang out with whomever he wants, but from a public relations standpoint, maybe Yuri Sucart should just lay low for awhile. You know, take the summer off. Maybe take some golf lessons?
Listen, Alex. I know he's your cousin (not really), but he's also the living personification of everything that everyone hates about you—and you still have that meeting the MLB investigators coming up—so if you actually expect anyone to buy your "aw shucks" nonsense, could you at least pretend to give a damn?
Yeah, it's gonna be an awesome year.
A-Rod's wild ride begins with a bang [Yahoo]
Cousin Yuri Sucart remains topic of discussion for A-Rod [NY Daily News]