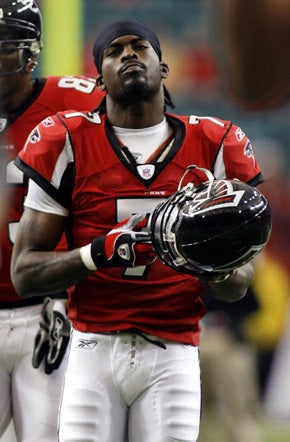 Michael Vick could be released from prison as early as May 21, say government officials, and sent to a halfway house. Which, in this case, will be his own house.
Our protagonist, serving a 23-month sentence at the federal penitentiary in Leavenworth, Kan., for dogfighting conspiracy, was scheduled to be moved to a halfway house in Virginia. But there's no space there, so officials are going to send him to his suburban Atlanta home, where he must wear an electronic monitoring device and not leave the premises. Hope he still owns it by then.
It's his first big step toward an eventual return to the NFL, assuming a team will have him. Vick's actual parole date is in July, which leaves time to get ready for the 2009 season. But the Falcons have been trying to trade him since Feb. 12, with no takers.
Is there any doubt he's ending up with the Bengals? Obvious.
Should community service be included in the conditions of his release, I have a suggestion: Door-to-door PETA lip balm salesman.
Michael Vick Has Been Cleared To Stay Home Alone [Lewp's Weblog]
Official" Vick OK's To Go Home [Atlanta Journal Constitution]
Seven On No. 7, The Future Of Vick [Yahoo Sports]