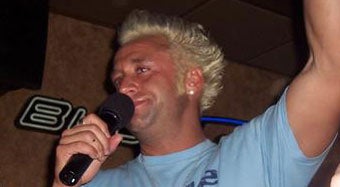 I know the idea of Jeff Reed, drunk in a gas station bathroom at 3:00 a.m. sounds improbable, but there was actually a very good reason for it. He was paid to do it!
It seems that earlier that fateful evening, Reed made a "scheduled appearance" at a nice little place called Castle Pub in Ebensburg, PA. One hundred and fifty Steeler fans paid an $8 cover to meet the legendary kicker/party man in person and ... get this ... he was already drunk when he showed up!
Black and gold fans who showed up to see Steelers kicker Jeff Reed at the Castle Pub in Ebensburg on Friday Feb. 13 said he was late and visibly drunk....

Marisa Slaventa said, "They said something about being at IUP [Indiana University of Pennsylvania, just up the road] before they came. They didn't know where that was and now they were in Ebensburg and ready to party"...

Reed was reportedly refusing to sign autographs and only dancing and taking shots with girls at the bar.

Many fans like Slaventa and Ropp left the bar disappointed.
What? You shelled out eight smackers for a guaranteed chance to see Jeff Reed in person at a place with its own liquor license—what did you expect was going to happen? A PowerPoint presentation on special teams strategy? You paid your money to watch him do kamikazes with young women, whether you knew it or not, and frankly ... you won that hand, cowgirl.
In fact, maybe he smashed that poor towel dispenser later in the evening because he was disappointed in you? Did you ever think of that?
Pittsburgh Steeler Disappoints Local Fans At Cambria County Bar [WJAC]
[Photo via Busted Coverage]