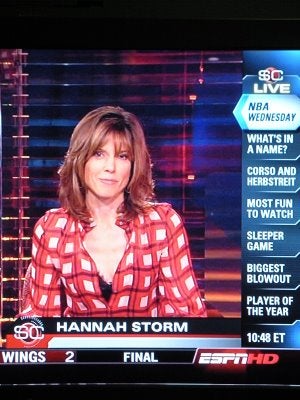 Not A Sports Blog does some inspired creepy-detective work into the recent wardrobe changes to SportsCenter morning host Hannah Storm. Sadly, it appears the days of shiny thigh-high boots and low-cut tops are behind her.
And they've got the Flickr photos to prove it. It's an interesting transformation and NASB wonders if the make-over was one initiated by the WWL. That seems unlikely. So perhaps it was Storm, who is 47 and a mother of three, who decided the last thing SportsCenter morning watchers need is some sexy farm girl mixed in with their scoreboard scroll. But don't worry — Josh Elliot will still be showing off the Almond Joy-exposing slacks to keep viewers titillated.
*****
Thank you for your continued support of Deadspin and do something about your painful hip condition. You're too young to suffer in pain.