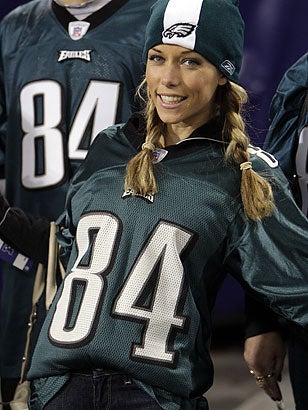 The lovely Kendra Wilkinson has been more ubiquitous than ever this week, showing up on multiple radio shows and a People Magazine interview. Highlight: WFAN asked her who was better in bed; Hef, or Hank Baskett?
Excerpts from the exchange on the "Boomer and Carton Show."
Boomer, or perhaps Carton: "Are you alone in bed right now? Or is Hank Baskett with you?"
Kendra: "Hank is with me."
B/C: "When are you getting married, by the way?"
Kendra: "We're getting married on June 27 at the Playboy Mansion."
On meeting while playing golf:
B/C: "So what you're saying is that after Hank sunk his ball in the hole, you decided that was it, he was your guy."
Kendra: "Exactly. He was just upfront with me. He never beat around the bush. He was always real with me. Guys are all so dang like fake these days. So finally I found someone real."
On Hugh Hefner:
B/C: "Going from an 82-year-old to a 25-year-old is a unique little twist."
Kendra: "You know what? It's Hugh Hefner. He's a heck of a great guy. He just made life so interesting."
B/C: "With respect, Hank is better in bed, right?"
Kendra: "Ha ha ha ha."
B/C: "Hugh's been with maybe a few more women; maybe Hank could learn a few lessons, no?"
Kendra: "Uh, no, I'm pretty happy right now."
And in a startling development, Hank and Kendra appeared on the TV show Dogg After Dark to pop the big question to Snoop Dogg: Will you sing at our wedding? (Damn it, I promised myself I wouldn't cry).
And then we have tentative names for children. If it's a girl, Kaleigh. Boy, Hank Baskett IV. Second boy, Biscuit Nevin. I don't pretend to know what's going on with that one.
Wilkinson of course is preparing for a new reality show on the E! channel, which in part will chronicle the couple's wedding preparations. That explains the recent media frenzy. You have been warned.
Kendra Wilkinson Is Asked If Hank Baskett Is Better In The Sack Than Hef [Sports Radio Interviews]
Kendra Wilkinson, Hank Baskett Want Kids, Snoop To Sing At Wedding [The 700 Level]