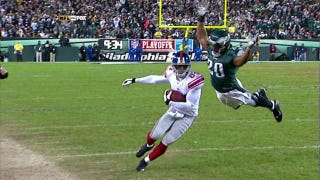 This is a sad day for Philadelphia Eagles fans. Brian Dawkins, long-time safety and recent perfecter of legalized helmet-to-helmet knockout hits, is heading to Bronco country next season, according to one report.
One of the best parts about the Philadelphia Eagles this year was the ridiculous play of Dawkins. He made it well-past the usual Eagles expiration date age and even though he's been slowed by injuries the past two seasons, this year he reinvigorated a defensive unit that wouldn't have been as successful were he not on the field. You know, except the 4th quarter of the NFC Championship game.
But Dawkins is 35, moving on to Denver. Also moving on to Denver? Running back Correll Buckhalter, who will most likely run for 1,500 yards next season as a Bronco.
Anyway, to ease our pain and because it's the weekend, let's watch one of Ronaldo's ex-girlfriends get banged on a boat. (NSFW)
****
Thank you for your continued support of Deadspin. I'll be back tomorrow, dicking around on a Saturday as we attempt to set a pageview record for Deadspin this month. So, you know — lots of exposed NFL genitalia and cheerleader Facebook pics for everyone. And probably more porn.
Come help, if you're not doing anything fantastic.