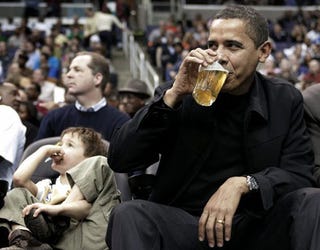 Got an image you'd like to see in here first thing in the morning? Send it to tips@deadspin.com. Subject: Morning crap.
Doesn't this picture just require a Commodores song playing in the background? Or KOGOD dancing like a gay chimpanzee? This photo, taken at last night's Wizards game, comes courtesy of the fine young brother cannibals at Mr. Irrelevant, otherwise known as The Flying Mottram Duo, Inc.
Obama's presence seemingly inspired the normally punchless Wizards, as they marched onto victory, 113-90 over the Bulls.
Obama Having A Beer At The Phone Booth [Mr. Irrelevant]
******
And here we are. It's Saturday. I'm blogging from a Brooklyn bar, waiting for Time Warner to get their dumb asses over to my apartment so I don't have to continue typing whilst holding my laptop out the window to gank a WiFi signal from the Korean deli. I have a feeling I'll be here a while.
Please join me.