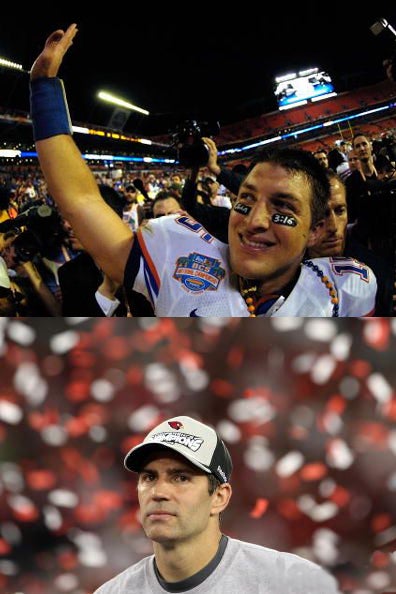 What's more shocking — that Rick Reilly has never met Dave Barry or that Kurt Warner had never spoken to Tim Tebow? Well, at least, one of these duos have finally made a connection.
According to the Orlando Sentinel, Warner reached out to Tebow a few days ago, just to reach out, introduce himself, rap about The Lord, etc:
"I wanted to touch base with him, I was talking to him about a charity event I was doing, wanted to touch base and hope we can build a relationship moving forward," Warner said during ESPN The Weekend festivities. "It was more about life than it was about football. It was just getting to know him a little bit so hopefully I can be a resource to him down the road if he needs me."
You know, I can't wait until they both attend the Cornerstone Festival this year to hype up the young warriors of the Spirit, throwing out footballs painted white with gold crucifix seams.
Kurt Warner reaches out to Tim Tebow [Orlando Sentinel]
PHOTO: Tiricosuave.com