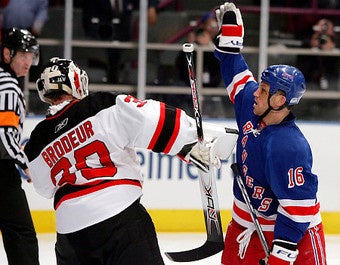 Dallas is expected to put Sean Avery on re-entry waivers on Monday, a move long planned that would send him back to the New York Rangers. Except ... things have changed slightly.
A few weeks ago, Avery was sent to the Rangers' AHL affiliate, with the unspoken understanding that when he was ready to come back to the bigs, New York would claim him on re-entry. John Tortorella, an analyst for TSN, thought that was a horrible idea and said so on the air. It's safe to say that he is not a fan of Avery.
Right after the December incident in Calgary in which Avery made crude and intemperate remarks about former girlfriend Elisha Cuthbert: Tortorella said this on TSN:

"The league stepped up here and I think they did the right thing. Enough is enough.

"He's embarrassed himself, he's embarrassed the organization, he's embarrassed the league and he's embarrassed his teammates, who have to look out for him. Send him home. He doesn't belong in the league."
Of course, when that "trade" to the Rangers was hatched in early February, Tom Renney was still the coach in New York. But he was fired last week and replaced by ... let's see here ... John Tortorella! How about that? So will John have to eat his words now and pretend he's on board with Avery or is the whole deal off? The Rangers playoffs hopes made depend on that answer.
And there's always the possibility that some other desperate team will swoop and grab Avery first. This whole situation has gotten very ... what's the word I'm looking for? Messy? Slippery? I'll think of it ...
The looming showdown: John Tortorella vs. Sean Avery [National Post]