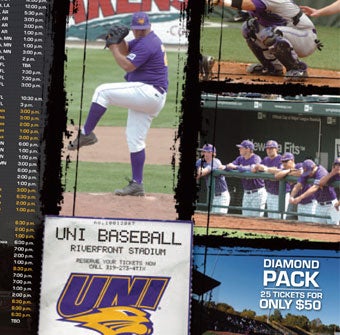 As you may have heard, Northern Iowa's baseball program is on the chopping block (likely because of your bad mortgage), but the internet is making a ninth-inning rally to try and save it.
All they have to do is raise $1.2 million in the next month and the program will survive for ever and ever! Well, that shouldn't be too much trouble in this economic climate. Those aren't American dollars, are they?
The team has about $100,000 in pledges so far, which is not bad, but still a long way off. Incredibly, Northern Iowa has had a "base-ball" team for over 100 years, so it would be a shame to let it die like this. If you're still employed (and assuming this is not another evil ponzi scheme) feel free to chip in. Maybe Kurtis The Stock Boy could help?
SupportUNIBaseball.com [Support UNI]