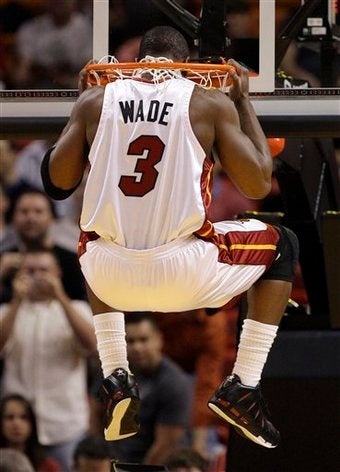 Dwyane Wade was having a lot of fun putting those decorative Band-Aids on his face and NBA fans were starting to take notice. So naturally the league had to put a stop to that.
The NBA politely reminded the Miami Heat last weekend that these disgusting displays of personal expression are not allowed on their courts, and while that may seem like a case of fussy old white men taking all the fun out of pro basketball, this was actually a necessary corrective meant to restore competitive balance.
Wade was named February's Eastern Conference Player of the Month after being "aided," no doubt, by his fancy adhesive bandages. Yes, he's scored 87 points in his last two games without the performance enhancing strips, but his 41 last night against Cleveland still left him one point shy of opponent LeBron James—and the Heat lost to the Cavs.
Obviously wearing a custom Band-Aid on your face is good for one free throw a night. And no matter how many fans get excited about the craze or start buying the bandages for charity, that's just too much of an edge for Wade. Problem solved!
Cleveland vs. Miami Highlights [NBA.com]
NBA bans Miami Heat guard Dwyane Wade's stylish Band-Aids [Miami Herald]
NBA Cracks Down on Personalized Band-Aids just in Time [The Sports Union]