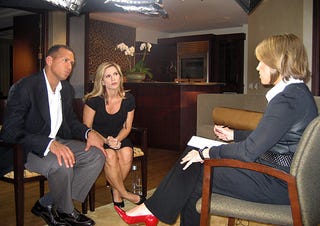 CBS News' Katie Couric revealed a surprising fact about Alex Rodriguez to David Letterman last night. Prior to their infamous 60 Minutes interview, it turns out A-Rod solicited career advice from her.
According to the Post, Rodriguez, who'd just recently opted out of his Yankee contract, called to ask Couric, "What team do you think I should play for?"
Couric should have told him the Toronto Argonauts just to throw him off.
A-Rod Sought Katie's Advice [NY Post]
Photo: TvGuide.com