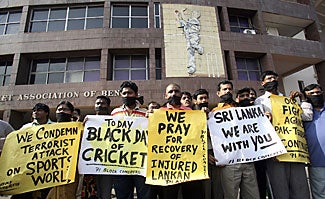 Need more depressing sports news today? How about terrorists taking their stupid fight to defenseless cricket players?
The Sri Lankan cricket team was attacked by armed gunmen while on their way to a match in Pakistan today. Eight members of the team were injured, but seven Pakistani security men and a driver were killed in the ambush. Ironically, the Sri Lankans only agreed to go to Pakistan as a show of good faith, because the Indian team pulled out of a scheduled tour of the country after the the Mumbai terrorist attacks. As if any thing these idiots wanted—which is impossible to determine since they won't claim responsibility for the act and are still at large—had anything to do with cricket.
Oh, and the 2011 Cricket World Cup is supposed to be played in Pakistan, but good luck with that.
Gunmen attack Sri Lankan cricket team in Pakistan [Christian Science Monitor]
Recent history of cricket and terrorism [CNN]
Beyond The Boundary [Times of India]
Chris Broad hailed as hero after Lahore attack [Guardian]
Witness account of Pakistan attack [Al Jazeera]
No Pakistan cricket any time soon: ICC [The Age]