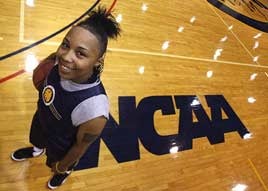 There are plenty of stories about athletes who came from humble beginnings, who stare down adversity, cliche, etc. Here's another one: Meet Britney Jordan, one of the NCAA's leading scorers and former Philadelphia exotic dancer.
Jordan, a 5'8" guard, currently plays for Division II Texas A & M-Commerce and leads most NCAA divisions in scoring with her lofty 31 ppg average. Only Grinnell's John Grotberg in men's Division III equals her output. But Britney's rise to Iverson-like dominance was not an easy path. No, no — she was enrolled at Temple at one point, became distracted, then let her hoop dreams go by the wayside. During that time of self-reflection, she needed to make a little money and, just like the listless wannabe Hollywood starlet in Poison's "Fallen Angel," started stripping at various nightclubs to make ends meet. Just replace LA with Philadelphia and it almost works.
"I never did anything illegal, never went to jail or was arrested, but it was just something in my life I experienced and went through.I just existed ...After living in Philadelphia and the city and the fast life, it made me want to be a better person," she said. "I want people to know that regardless of the mistakes you make, as long as you're willing to make it right, you can always turn that mistake into a learning experience."
As a person who's been to a few gentleman's establishments in the Philadelphia area, I'm sorry I never caught Britney cheetah-prancing or lap-dancing , but I'm assuming she never worked at Daydreams or Delilah's. She seems like more of a Dolphin gal. But congratulations to her for getting out of that mess.

With Passion Rekindled, A&M-Commerce Guard Lights It Up [Dallas Morning News]
*****
Oh, and while we're on the subject of strip clubs, a belated RIP goes out to Mt. Ephraim's infamous Fantasy Showbar. This is the place where most Philadelphia area/South Jersey teenagers first got to see real, live, fake knockers in person. And it's also the first place I'd ever seen a woman stick her entire hand up her own crotch.
Thank you for your continued support of Deadspin. Go sculpt something massive.