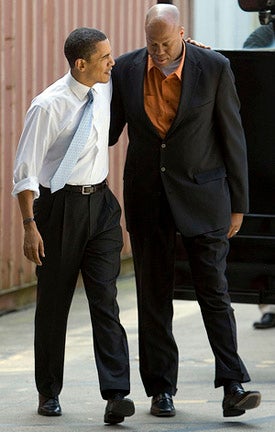 Oregon State basketball coach Craig Robinson said he wouldn't be above using President Obama for recruiting purposes. Presumably he was kidding. Or considering how competitive Div. I basketball recruiting is, maybe not.
Robinson, who is Obama's brother-in-law, was on Mason and Ireland's ESPN LA show on Tuesday. The former two-time Ivy League Player of the Year at Princeton said:
"I think the President has the right to call any citizen that he feels like calling any time he wants. I haven't had to use him yet, but I think I ought to petition the NCAA to see what the ruling will be on that before I do it."
Oregon State, 0-18 in the Pac-10 last season, is currently 7-9 in Robinson's first year. More quotage:
"I have to be completely honest, we overshot our expectations by a long way. Having watched the tapes of the team last year, which we did and I know the league isn't quite as good as it has been in the past, we thought that if we could get two wins out of this season we'd be doing our jobs and if we were really lucky we can get a third."
On Obama's contention that there should be a playoff in college football:
"You guys are really trying to get me in trouble. I stick by my president."
He's More Than Just The President's Brother-In-Law [Sports Radio Interviews]