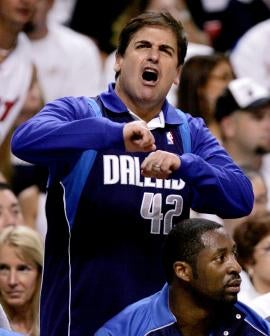 Mark Cuban was none too pleased with the Mavericks' 96-87 loss to Oklahoma City on Monday, so he's putting his team on notice. Any more lackadaisical play, and (use Trump voice here) you're fired.
Listen, you fuckers, you screwheads. Here is a man who would not take it anymore. Here is a man who stood up. From the Dallas Morning News:
"It's only one game, which I keep reminding myself of today," Cuban told reporters today. "But let's just say I wasn't happy with our preparation, execution or effort. Not only did it look like we had no idea what we were doing, but we did it without effort. The effort and energy, on both sides of the ball, by each player will decide their future with the Mavericks.
Here's more of his statement (parenthetical additions by me):
"If each player can't take the personal initiative to make every game important and play like it, I don't see them being here next season (I'm taking to you, Nowitzki). The ball won't always bounce the way we want it to (stupid, lazy air), but every player can control their level of effort (stupid Nowitzki). If it's not important enough to them to lay it out every game the rest of the season, they won't be back. I don't care what their contract is (luckily the economy is strong, so no worries there). I would rather turn over the roster 100 percent than subject fans to another game like last night (sent from my iPhone).
You just kind of have to wonder how effective these motivational speeches by owners are. My guess: Not very.
You talkin' to me? You talkin' to me?
Mark Cuban: Players Who Don't Give Effort Will Be Gone Next Season [Dallas Morning News]