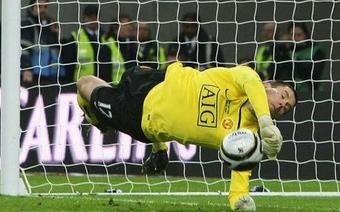 Manchester United won the Carling Cup last weekend in a dramatic(?) penalty shootout, but it turns out that goalie Ben Foster may have had some technological assistance.
After time expired, but before the shootout began, Foster turned on his coach's iPod—but not for crazy psych up music to prepare him for the big moment. He was watching old video of his opponents taking penalty kicks. Foster even says he noticed that in one of the clips, Tottenham Hotspur's Jaime O'Hara showed a tendency go to his left. Sure enough, when O'Hara took his turn, he went to the left, Foster was ready and he made the save. Man U won the Cup and Foster was named man of the match.
All the hubbub about it seems to imply that video assist is a bit shady, but when you think about it ... why would it be? Other sports let players consult charts and photos and even video from the bench. German goalkeeper Jens Lehmann famously stuffed a cheat sheet into his sock before a World Cup match against Argentina in 2006. Tottenham even boasts that their techie kung fu is way better than United's. On the other hand, all the "these crazy kids and their computers have changed the world" stuff is just as overblown.
Plus, O'Hara could have just as easily gone right and then Foster would have looked like a dope. The end.
Ben Foster's iPod-watching raises the bar for Manchester United [Times Online]
Gary Megson isn't impressed by Ben Foster's iPod [The Spoiler]
Why Aren't More Premier League Clubs Using the iPod? [EPL Talk]
Manchester United penalty win a triumph for iPod generation [Telegraph]