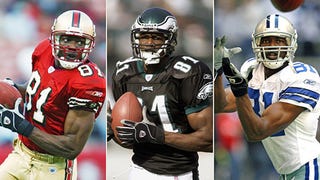 Much freewheeling speculation on the Interwebs today about where Terrell Owens will end up, but if you want to put your money where your mouth is, one site is actually booking odds.
Bodog.com has installed the Oakland Raiders as the favorite in the T.O. Destination Sweepstakes at 7/2, perhaps due in part to this quote by Tim Brown this morning on the NFL Network:
"He'll be a Raider by next week."
If anyone's qualified to guess on this, it would be Brown, who even wore No. 81 when he was a Raider. Next best odds lie with the Redskins at 4/1, and that seems to be the early blog consensus as well. Then we have the Jets (6/1) and the Buccaneers, Patriots and Titans at 13/2. I'm rooting for the Patriots, just to see how long Brady, Belichick, Moss and Owens can survive together in close quarters.
The full list:
Oakland Raiders 7/2
Washington Redskins 4/1
New York Jets 6/1
Tampa Bay Buccaneers 13/2
New England Patriots 13/2
Tennessee Titans 13/2
Miami Dolphins 8/1
Philadelphia Eagles 50/1
Field (any other team) 5/2
And I'm not sure who wrote it, but the best line so far is: "I think that every team should eventually be allowed to enjoy the Terrell Owens experience."
Yes, it's only fair.
UPDATE: Cross off two teams right away in the T.O. Derby. The Florida Sun Sentinel says that there is no way an Owens-Bill Parcells reunion will take place. And the New York Giants have made it official, sending Owens an un-invitation earlier today.
UPDATE: OK, take the 49ers off of the list as well. (Whew).
NFL Football Player Props [Bodog]
Ha Ha, And The Top 10 Next Teams For Terrell Owens [Five Tool Tool]
I Can See It Now ... [Fack Youk]
Why The Redskins Must Sign Terrell Owens [Stet Sports Blog]
Top 15 Reasons The Cowboys Released Terrell Owens [Gunaxin]
TO = To Oakland [Arrowhead Addict]