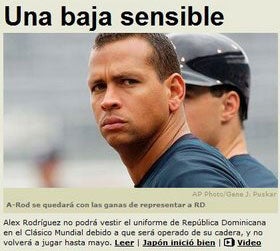 Here's a tip for everyone out there—when you need advice or information on any topic, don't listen to anyone related Alex Rodriguez.
There was one little thing in the ESPNdeportes story this morning about A-Rod's upcoming surgery that should have raised a red flag to everyone (including us), but didn't. Their only source was Alex Rodriguez's brother. I didn't even know he had a brother until today, but this mysterious sibling told Enrique Rojas that Alex would be having surgery on Monday to fix his busted hip and he would be sidelined for 10 weeks. But no one bothered to confirm with Alex or the Yankees before running with it.
New York beat reporter Peter Abraham finally did and he reported a short time ago that Brian Cashman is ixnaying the surgery. It turns out that the cyst was caused by a torn labrum—an injury similar to one suffered by Chase Utley and Mike Lowell—and that if he did need surgery the recovery time would be closer to four months. ESPN's Jayson Stark added later that Cashman says he was shocked by this news, because Rodriguez had not been complaining about pain at all. If he can play through it, the team would obviously prefer to keep him on the field.
So at this point, no one can figure out what is actually happening. ESPN News is sticking by the brother story, while also adding that the ball club is leaning toward no surgery and running clips of his agent, Scott Boras, saying they will wait and see. I'm not sure whose call it would be, but I'm guessing it's not up to A-Rod's brother.
And was the cyst caused by steroids? Who cares? The whole thing is probably fake anyway.
No surgery for A-Rod [LoHud Yankees Blog]
Breaking News: ESPN Deportes Never Wrong! [Fack Youk]
Alex Rodriguez's cyst caused by torn labrum, slugger could miss 10 weeks [NY Daily News]
A-Rod update: Study says steroid-cyst link exists [USA Today]
Alex Rodriguez's recovery could be longer than expected [ESPN]
Hip surgery or off-the-books suspension for A-Rod? [Star Tribune]