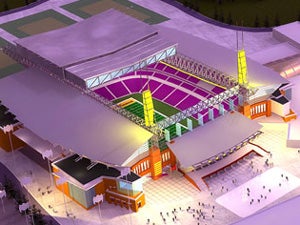 How do you finance a new football stadium in these times of economic uncertainty? Casinos, of course. Minnesotans may not be able to pay their mortgages, but they've got gambling money!
Tom Hackbarth, a Republican from the Minnesota House of Representatives, is introducing a bill today that would bring a casino to the Minneapolis area, financing from which could be used to construct a new stadium for the Vikings.
The Vikings aren't specifically named in the bill, but the team is the only one in the state without a new stadium under construction. Even as state officials are grappling with massive economic problems, team officials have continued to lobby aggressively for a state subsidy that would partly finance a $954 million stadium. Most legislators have said attempt to move a stadium bill this year would likely be politically explosive — and likely to fail.
Minnesota governor Tim Pawlenty has shown no interest in casino construction in the past, but Hackbarth said that the issue should be left up to the voters. Yes, that should settle it. What could possibly hold things up?
Your move, Los Angeles.
Gambling To Finance A Stadium For The Vikings? [Minneapolis Star Tribune]
When Raising Taxes Doesn't Work, Take Taxpayers' Money Through Gambling [Two Big Boobs]