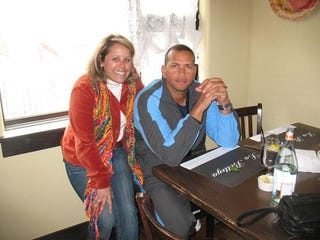 Poor A-Rod. He's just looking for some quiet time in Vail while getting his hip drained, or labrum re-attached, or toenail scraped, or whatever ailment he has, and then a nosy local snapped this photo.
He looks positively wiped. At least he had the good fashion sense to wear a sweatsuit that matches his lips.
And here's another photo taken, presumably before this lady, Dara, got the nerve to go up to him.
I picture her hiding behind a cash register for five minutes, gesturing toward Rodriguez and mouthing to anyone with in earshot "IS THAT DEREK JETER?"
*******
Thank you for your continued support of Deadspin. Oh, and if you happen to be a turtle, please be on the lookout for swooping eagles. Jeepers.
Now, go drink something tall, dark, and meddlesome. It's Thursday, dammit.