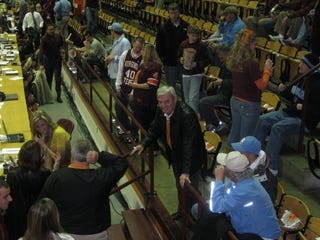 Got an image you'd like to see in here first thing in the morning? Send it to tips@deadspin.com. Subject: Morning crap.
We haven't had any on-the-scene Erin Andrews photos in a while. Actually, I'm going to start compiling all of these and throw them in little gallery that'll just be added to forever and ever. Or actually Pete will. I think we could probably crack 100 by the end of the year.
Good morning. It's Friday. Stretch your legs. Let's listen to the Buzzcocks.