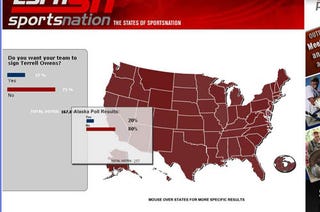 Terrell Owens' options grow more limited by the hour, as more teams go on record saying they don't want the controversial wide receiver. His agent, however, says all is good.
The intrepid Drew Rosenhaus, who has literally breathed life into more than one person over the years, says that Owens will be with a new team within a week.
"There are several teams that are interested in signing Terrell. I have been in negotiations with these teams. I will not identify these teams at this time. Terrell and I expect to have a deal in place by the end of next week if not sooner."
They'd better act soon. There are already 17 teams on the anti-T.O. list, which seems to be growing by the minute. And ESPN has even conducted a national poll which is currently running 75 percent against Owens. Even Alaska (80 percent) and Montana (83 percent) do not want him, should they somehow ever get an NFL franchise.
Not on the anti-T.O. list. by the way, are the Broncos, the Raiders and the Chargers. Oops, this just in: Scratch that last one.
How Is T.O. Defining Racial Lines In Dallas? [Ewe Blog]
Rosenhaus Says 'Several Teams' Are Interested In Owens [Pro Football Talk]
The Anti-T.O. List [Pro Football Talk]